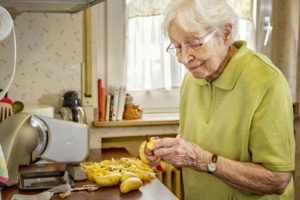 Discovery Village At Sandhill provides the chance for adults with an active lifestyle to live in senior independent living homes. Moving to a senior living community is an excellent choice for people who want to keep an active lifestyle and also get to enjoy all the comforts and amenities which Discovery Village offers. You will be able to relax in a beautiful private apartment having your needs taken care of.
Get your body moving in a yoga class which takes place at our wellness center. Spend a relaxing time with your neighbors on the wonderful, landscaped grounds. Enjoy chef-prepared meals in our high-class Sensations dining room. When you live in our senior independent living home, you have the flexibility and freedom to do what you like without worrying about home maintenance or housekeeping.
If you are ready to start a resort-style life that is filled with fun activities, you may contact Discovery Village At Sandhill today either online or you can call 803-836-4110.
How are Senior Independent Living Homes like?
Before moving to Discovery Village At Sandhill, find out more about why active seniors choose to live in our senior living community.
An independent living home is the suitable for seniors who are looking for the convenience of a senior living community but do not need the additional help of an assisted living home. With independent living, residents can have their own private apartments that comes together with full living rooms and kitchens. They also have the option of making use of the on-site amenities like concierge services and restaurant-style dining. In an assisted living home, the residents who live there might need help with tasks like personal grooming and medication management. On the other hand, in our senior independent living homes, residents enjoy having access to our team members round the clock while maintaining their freedom at the same time.
To assess if this senior independent living community is right for you or your loved one, think about the following:
Are you able to manage daily living activities by yourself, such as cooking, personal grooming and taking care of your home?
Do you like making trips to restaurants, stores and cultural attractions?
Are you looking to maintain an active lifestyle?
Will it benefit you to have home maintenance and housekeeping services so that you can spend more time on what you love?
Is it helpful to have on-site access to medical care?
If you answer mostly "yes" to the questions above, you may want to contact Discovery Village At Sandhill today to find out about our apartment availability, highlighted senior living programs, and other information.
Our Senior Independent Living Home
At Discovery Village at Sandhill, we have many wonderful amenities for you. In the luxurious private apartments, you can find the following and more:
Open concept layouts
Spacious one and two-bedroom apartment homes
Quality wood cabinetry in kitchen and baths
Granite countertops in kitchens
Stainless steel appliances
Resilient wood-look plank flooring in kitchens and living rooms
ADA-compliant bathrooms featuring grab bars and walk-in showers
Patios and balconies on select apartment homes
Wall-to-wall carpeting in bedrooms
Dryer and Washer
Individually controlled heating and air conditioning
Call response system for emergencies
Additionally, we provide a range of senior living programs, some of them include an ever-changing schedule of events, concierge services, and a fitness center. We also provide transportation for outings in the Columbia area where residents can enjoy visiting cultural attractions, shopping and dining.
Find out why active seniors decide to stay in Discovery Village by contacting us today.
Contact Discovery Village At Sandhill Now
Moving to a senior living community can appear to be challenging at first. But at Discovery Village At Sandhill, the concierge services will help to make your transition seamless. We can help to arrange for movers, assist with turning off services at your home, work together with you regarding the layout of your new apartment, and also help with interior decorating. With our rent lock program, you do not have to worry about the rent increasing for 3 years.
If you are considering a move to a senior independent living home in Columbia, SC, do contact us today. Our team of senior lifestyle coordinators will be able to answer your questions, share more about our resort-style amenities, and explain why residents love Discovery Village. Feel free to contact us today by using our secure online form or by calling 803-836-4110.