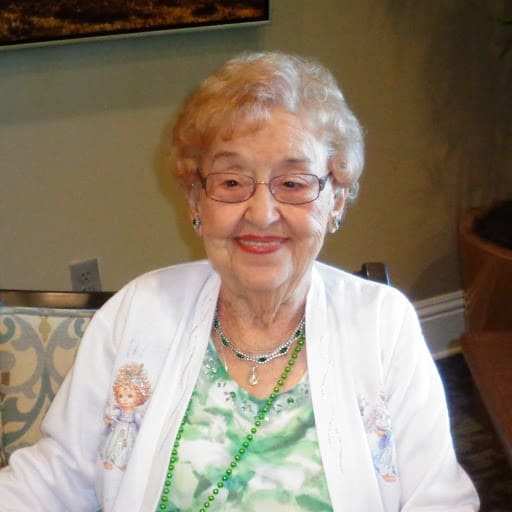 Having lived 82 years in the City of Big Shoulders - Chicago, IL - Eleanor Holsinger knows a thing or two about carrying the weight of responsibility on her shoulders. That's why she was able to come to terms to moving into the assisted living floor at Discovery Village at Sarasota Bay; because it took that weight off the shoulders of the people she loves most.
When her husband died several years ago, her son and daughter thought she should move into an independent living facility, but she was fiercely committed to staying in her own home and being her own person.
"I looked at several facilities and I wasn't happy with any one of them," Holsinger recalls. "I was going to stay in my house, which I did for two years, but it started getting a little hard because I was walking with a walker and my balance started getting not so good."
The balance issue began affecting one her passions - cooking - as she could not use both hands in the kitchen, constantly needing one hand to hold her steady. It required a lot of assistance from her children for her to stay in the home they had grown up in, and she came to the realization that she was putting that undue weight on their shoulders.
"I decided it was time for me to move on to assisted living. It was very hard, but I made up my mind that my kids needed their lives. My son and my daughter-in-law down here, and I just wanted them to have their own lives again."
She mentioned her intention to her children and they restarted the process of looking for a perfect fit.
"While she was looking, my daughter heard about this place," Holsinger said. "There wasn't even one brick put up here yet, but when I heard about it, I said yes."
That 'place' was Discovery Village at Sarasota Bay, which features 126 residential supervised independent living, assisted living, and memory care apartment homes. With a staggering 120,000 square feet available, there's something for everyone including a theatre, salon, barber shop, library, fitness center, heated therapy pool, dining room, club room, and bistro.
"I'm very happy and satisfied. I have a beautiful courtyard view, and everybody on the staff is just wonderful, they treat you like a person, not a number," she says. "They have so many activities and sometimes I get so tired I can't go to all of them. But I try to keep myself busy and out of my apartment."
A little fatigue is understandable, considering Holsinger turns 94 in June. She recently celebrated a year at Sarasota Bay on its assisted living floor, but remains fiercely independent on how much help she needs.
"I'm on the assisted living floor, but the only thing I really have that's assisted is someone sitting in my living room while I take a shower in case I fall," she says. "This place is very accommodating, there's no request, nothing that's too much for them."