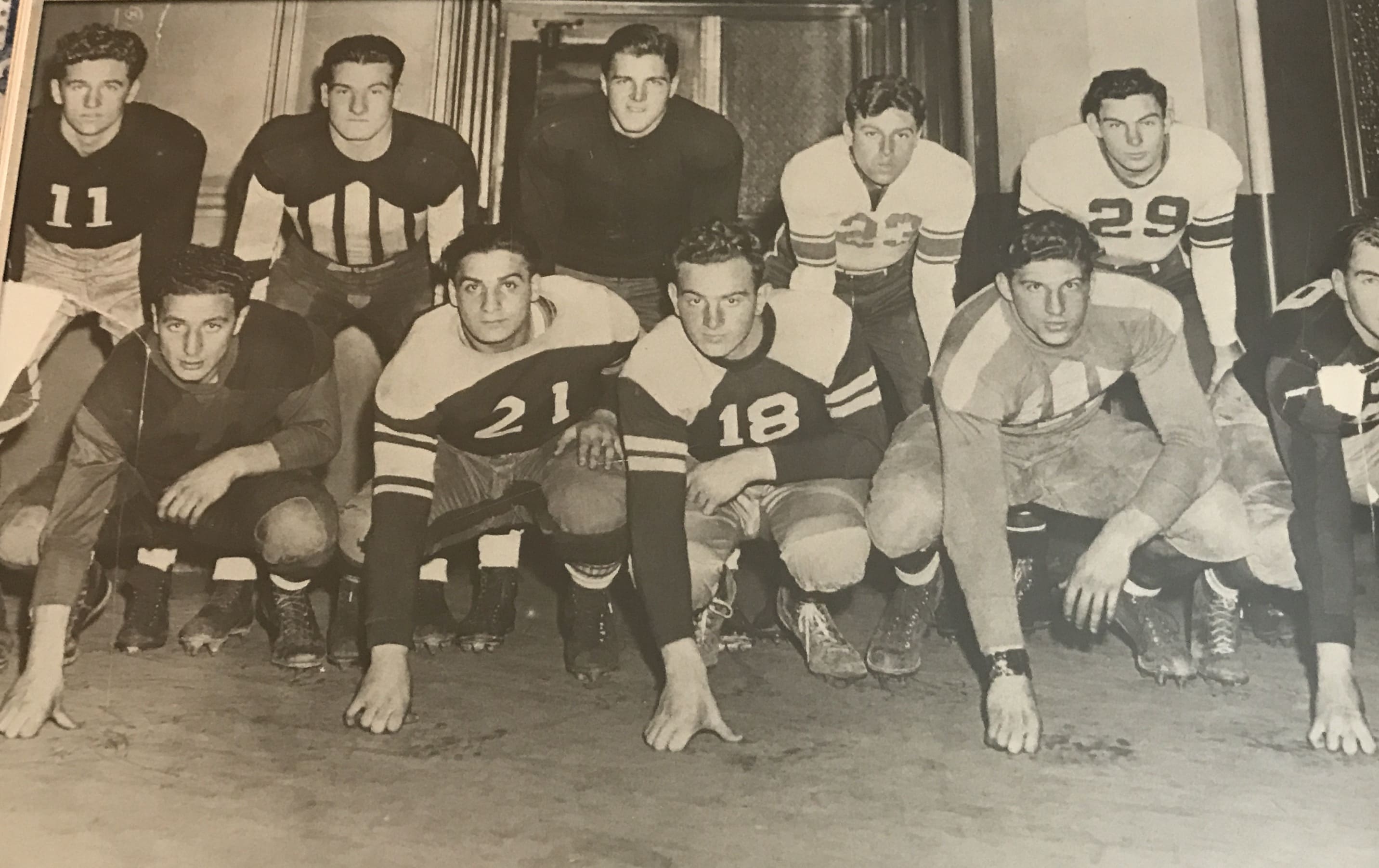 Al Ferris' life reads a bit like a movie. Start with A Bronx Tale, add in some Tin Cup, a bit of Invincible, and a healthy dose of Forrest Gump and you can see why this 98-year-old resident of Discovery Village at Palm Beach Gardens is one of the most fascinating people you'll ever meet.
Born in the Bronx in 1918, he grew up as the All-American East Coast boy, getting passes at school to go see the New York Giants play baseball at the Polo Grounds. He played high school football and was good enough that his mentor got him a tryout with the other New York Giants in 1938.
He made their practice squad until they traveled to Chicago to play the Collegiate All-Star team. Left behind, Ferris headed down the coast to play a game for the Jersey City Giants, who liked him so much they offered him $60/game - about $1,000 in today's money - to stay on.
Playing amateur football was quite the life, but it ended quickly when war broke out with the sneak attack by Japan against the US at Pearl Harbor in 1941. Ferris and every other guy he knew were headed to the Army.
"I went in as a private, and I wanted to be a fighter pilot," he recalls. "I went to the University of Vermont as an aviation cadet and passed my flying test. They sent me to Nashville to be classified as either a fighter pilot, bombardier, or a navigator. There was one part of the eye test I couldn't pass even though they gave it to me twice. So they sent me to Wisconsin to go to radio operator school."
He was so proficient as a radio operator that the Army had him go to another base to study radar and electronics. He became an expert in short order there as well, and Uncle Sam decided his best use would be as a teacher.
"I finally wound up as an instructor in radar flying P17s with students and teaching them how to operate the equipment," he said.
He continued to excel and applied for officer training school. Like everything else in his military career, his intelligence and flexibility paid off, and he was promoted to second lieutenant in 1944.
When the war ended, Ferris stayed on as an active reserve and joined the New York City Fire Department at a station in Harlem for five years.
It turns out the Army wasn't done with him, returning him to active duty for the Korean War as well as Vietnam. He eventually became a military intelligence specialist. In all he spent 27 years in the Army, visiting the likes of Berlin, Cairo, and many more cities during his time. He retired in 1969 as a full colonel.
He stayed active in sports as well.
"I played and coached football in the Army, they heard I had played and asked me to coach," he remembers. "But I only said I would if they let me play too. We started playing football in the MIddle East Service Command among the various units, and I coached and played for the team that won the championship of the Middle East Service Command."
After the war, Ferris took up playing golf at The Bronx's Van Cortlandt Park for $2/round. He's kept up his golf game even now, seven decades later at age 98.
"I run a little thing called putt putt and I've got all these women interested in how to play golf," Ferris says. "I teach them every Sunday at 3 p.m and they love it. I can't seem to get the men interested though. I had one guy show up one day and he bugged out, no patience I think."
Ferris is an original resident of Discovery Village Beach at Palm Gardens. His son tipped him off that it might be a place to check out.
"I was living up in Jupiter at another place, and my son was coming by his area and saw the big sign about it. There was no building at all yet," he recalls. "I took a ride over and saw the sales office, came in, and they gave me a complete briefing. I said 'I'll take it' and I signed up the same day."
It's a decision Ferris has never regretted.
"I'm quite happy here," Ferris says. "It has everything I want, the staff is great, and I love the activities."