The Best Choice in Senior Living
We've specialized in custom senior living for you or your loved one.
Living exceptional means creating a home and community in which residents' lives are celebrated and enriched daily. You are free to pursue the social activities, hobbies, and interests of your choice while our professional team members provide superior lifestyle and care services. Let us create delicious meals for you served restaurant-style and provide you a plethora of interesting and fun activities and events. Let us attend to your housekeeping and transportation needs, so you may live stress-free. We have blended the very best of health and wellness care services with outstanding amenities and gorgeous apartment homes to deliver you the perfect lifestyle to live happier, longer. That's because Discovery Village is a unique senior living experience with everything you need now or may need in the future all in one place.  We have helped countless families navigate the search for the right community to fit their needs and we extend the same offer to you. We think you will agree - it's a move worth making.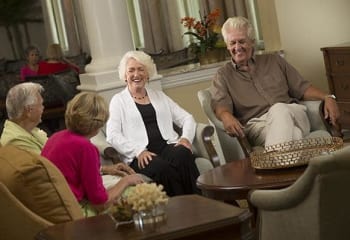 One Decision. One Move. One Special Place.
Wake up inspired each morning with a wealth of amenities, activities and support at your doorstep. Discovery Village At Dominion was designed to address all the needs and wants of today's retired seniors, all right onsite, in one special place. Our campus in San Antonio features two distinct communities. An Independent Living neighborhood complete with a lifestyle designed for active seniors and a separate Assisted Living and SHINE® Memory Care neighborhood with a specially trained team of professionals focused on maintaining your health and fitness  so you can continue to live an enriched and cultured life. Our elegant apartment homes are designed in various floor plans to suit your preferences at both neighborhoods. Amenity-rich Grande Clubhouses offers world-class dining and recreational activities and our dedicated team of service professionals are available 24 hours a day to assist your needs. This progressive approach offers an exceptional value - unmatched in San Antonio.
Award-Winning Management Team
Discovery Village is managed and operated by Discovery Senior Living, a recognized leader for more than 25 years in the development, building, operation and management of affordable, award-winning senior-living communities. Our vision from the very beginning was to create beautiful communities where residents would find interesting and active friends engaged in a happy and healthy lifestyle. This vision has come to life through the dedication and loyalty of our team members. These professionals are committed to ensuring residents' experiences, satisfaction and enjoyment are unsurpassed each and every day. We are honored to serve our residents and are committed to maintaining the highest levels of personal care.