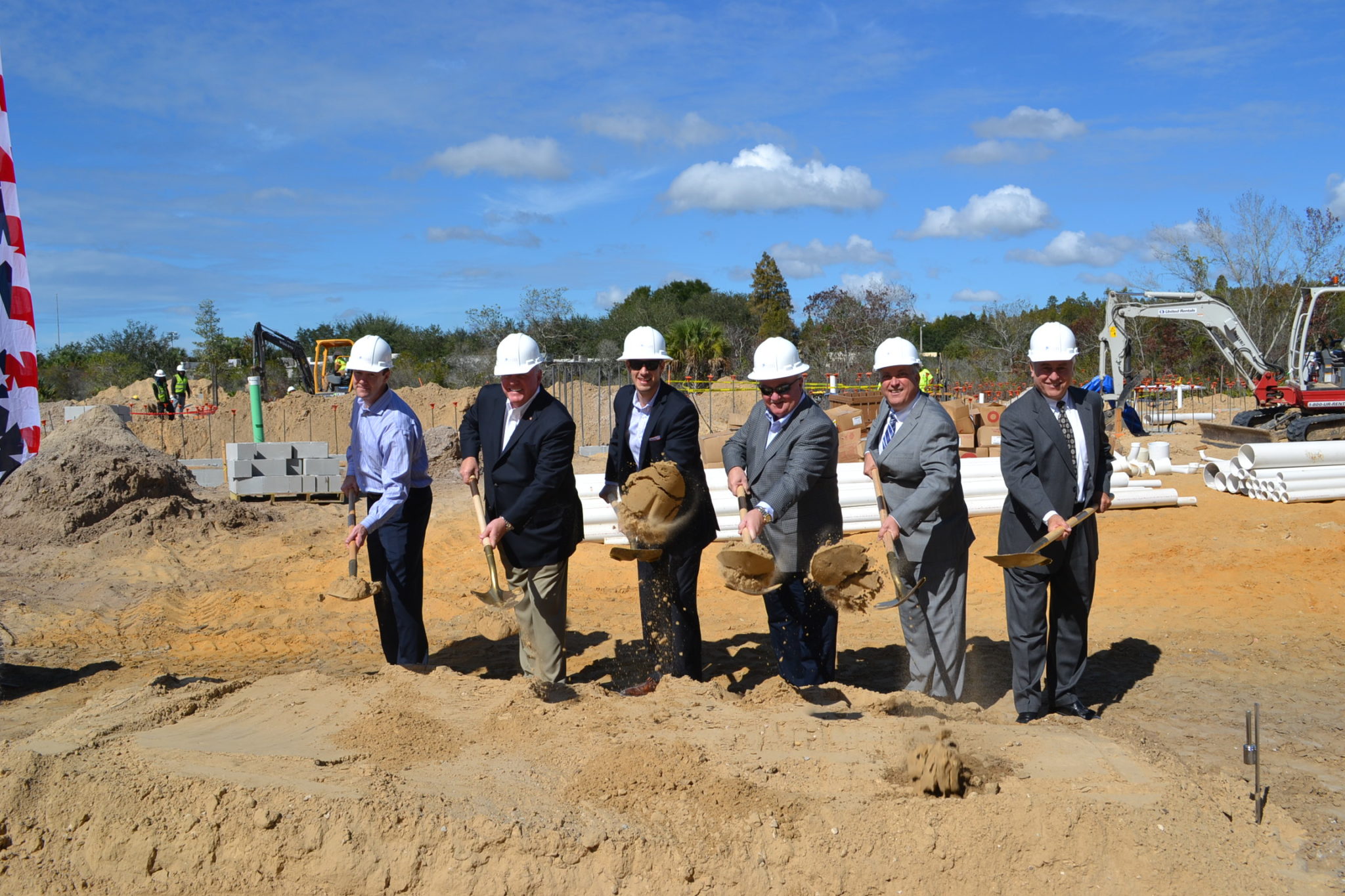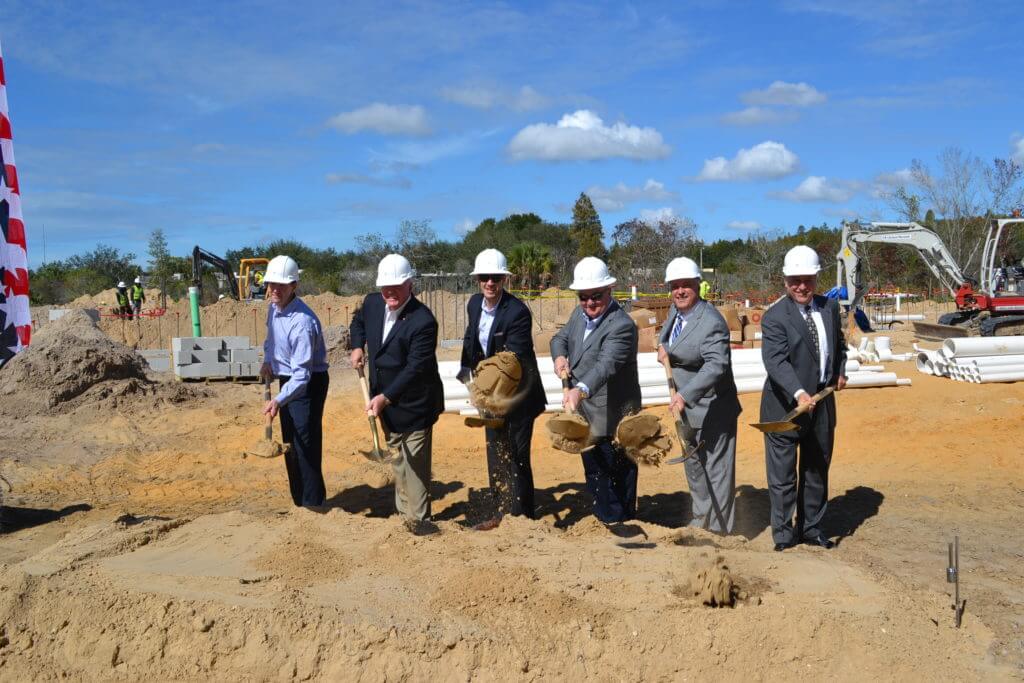 (From L to R): Thomas Costello, Discovery Senior Living; Thomas Harrison, Discovery Senior Living; Marco Cedrone, Kayne Anderson; Bo Russ, Architectural Concepts Inc.; Dennis Robinson, The Douglas Company; Pete Douglas, The Douglas Company

Discovery Village At Tampa Palms, the latest senior-living community from Discovery Senior Living, will include 105 residences for supervised independent living, assisted living and memory care apartment homes.
TAMPA, Fla. (DATE, 2015) – Discovery Senior Living commenced construction of its newest senior-living community, Discovery Village At Tampa Palms, with a groundbreaking ceremony on Oct. 22. 
"The development of this new community will enable us to provide senior-living services to a wider range of individuals who desire to maintain a healthy lifestyle and enjoy resort-style amenities," said Thomas J. Harrison, CEO and co-founder of Discovery Senior Living. "We are excited to become part of the Tampa community, and look forward to welcoming our newest residents to the Discovery Senior Living family."
The community is located at 17470 Brookside Trace Court, between Commerce Park Blvd. and Interstate 75, just north of Primrose Lake Circle in Tampa. It will include 105 residences for supervised independent living, assisted living and memory care apartment homes, offering residents personalized care plans where residents will receive the highest level of devotion from a team of qualified professionals. 
The world-class senior-living community will offer three gourmet meals with tableside service daily, complimentary scheduled transportation, health and wellness visits, on-site medical director, on-site therapies, an on-site Medicare-certified home healthcare agency, concierge services, weekly housekeeping and a wide selection of social and recreational activities.
The Grande Clubhouse will include a sensational dining room; social areas; a game room, bistro and ice cream parlor, bar and lounge and movie theater; a state-of-the-art monitored nurse station; a senior-equipped fitness center; an outdoor heated pool; a professional beauty salon and spa with barber shop; a media center with cognitive brain fitness; and a multifunctional craft center and activity room. 
Construction of Discovery Village At Tampa Palms will create jobs for an estimated 100 workers during the construction of the 108,000 square-foot community. The $30 million community is expected to be complete by 2017. Discovery Village At Tampa Palms will create approximately 80 new jobs for the community once development is complete.
Discovery Village At Tampa Palms is the design creation of Architectural Concepts Inc. (ACI) of Largo, under the leadership of founding partner Bo Russ. ACI provides architectural services to clients throughout the U.S., Bermuda and New Zealand, specializing in senior-building design.
Wegman Design Group's design principal, Lori Wegman, provided the creative and strategic interior design solutions. Wegman's professionals have been providing innovative design since its startup in 2001.
The Douglas Company is the general building construction management firm in charge of construction. The Midwest-based firm has offices in Ohio and Florida and specializes in several types of construction, including senior housing.
Texas Capital Bank is the construction financing partner.
About Discovery Senior Living
Discovery Senior Living, a family of companies founded by Thomas J. Harrison and Richard J. Hutchinson, includes: Discovery Management Group, Discovery Development Group, Discovery Realty Group, and Discovery At Home, a Medicare-certified home healthcare company. For more than 25 years, the award-winning management group has been developing, building, marketing and operating upscale, luxury senior-living communities. With a flourishing portfolio of more than 4,000 homes for seniors, caring for almost 4,500 residents, Discovery Senior Living has become a recognized industry leader in creating world-class resort-style communities. Discovery Senior Living manages and operates senior-living communities throughout the Southern United States in the states of Texas, Alabama, Georgia and Florida under the brand names: Discovery Village, Aston Gardens and Conservatory with ownership interest in, and also manages and operates Regency Pointe. The corporate office is located at 3301 Bonita Beach Rd., Suite 113, Bonita Springs, Florida 34134. For more information, visit www.DiscoverySeniorLiving.com.