Senior Living Is Always Richer on Florida's Treasure Coast – Vero Beach, FL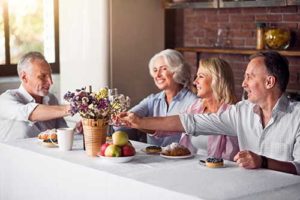 Our native Vero Beach is a haven for sandy beaches, world-class golf, fishing and watersports, and a peacefully elegant way of life that's the envy of seniors far and wide. Originally founded as a citrus grove, the local area today offers plentiful options for shopping and dining, arts and culture amenities, and an enchanting network of rivers and inlets where dolphins and manatees play, and countless varieties of fish and birds share the diverse tropical ecosystem. No wonder our seaside hamlet keeps popping up on lists of the "Best Places to Retire in Florida."
From our central location at Discovery Village Vero Beach, it's just minutes to the area's top attractions, including South Beach and Humiston Beach Park. Head a bit further north along historic Highway A1A and adventurers will find the McLarty Treasure Museum, which tells the story of an ill-fated Spanish fleet of 11 vessels which were loaded with gold, precious gems and riches when they sank just off the coast back in 1715. Head south toward Fort Pierce and you'll find the National Navy SEAL Museum as well as the Manatee Observation & Education Center, where the waterfront platform provides a perfect, up-close viewpoint.
Back home in Vero Beach, shop 'til you drop at the Indian River Mall, find deals aplenty at Vero Beach Outlets, and check out the Beachside Shopping District for trendy, designer duds and a variety of locally-owned shops and boutiques. Arts and theater lovers enjoy plentiful choices, as our area is home to the Vero Beach Museum of Art, Riverside Theatre, and year-round ballet, symphony and operatic performances all from local troupes. It's also fun to pick a perfect, sunny day to explore the McKee Botanical Gardens.
In the evenings, see and be seen along Main Street Vero Beach, where diverse restaurants and shops line the Downtown streets. Downtown Fridays are a regular source for fun and entertainment, with the recurring street festivals providing art shows, live music, food and drinks and chances to get out and socialize with friends and fellow, area residents. Be sure to mark your calendar for the Hibiscus Festival as well. Held annually, this is one of many seasonal events and gatherings enjoyed by area residents.
Indeed, no matter your own unique likes and preferences, there's plenty to enjoy here in Vero Beach and along the Treasure Coast. Discovery Village Vero Beach is located near all this plus so much more, including nearby Sebastian Inlet State Park, Melbourne, and plenty of our own beloved local spots for recreation and dining. A familiar way of life, a convenient central location, and endless possibilities for entertainment and fun just add to the list of reasons why Discovery Village Vero Beach provides a perfect setting for living well and enjoying every day and evening spent right here in sun-splashed Vero Beach.