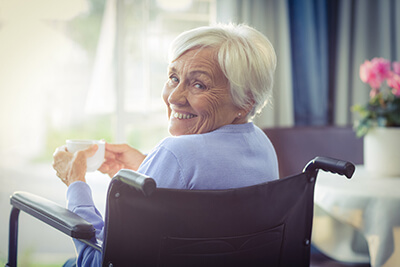 Our senior assisted living program in Tampa, FL provides personal care and support with daily living activities. Discovery Village At Tampa Palms residents in this program receives personalized care services that are comprised of bathing or showering assistance, medication administration, continence management, glucose management, and personal laundry. All of these services are supported by our 24-hour professional health and wellness team and our on-site Medicare-certified home health agency. At Discovery Village At Tampa Palms, we make thoughtful, personalized care a fundamental part of our service. Therefore, you'll have peace of mind and security for your budget.
What to Look for in a Senior Care Program
Your comfort and convenience are essential when considering moving to a senior living community. Senior assisted living homes offer assistance whenever necessary, but freedom and flexibility when you don't. Many senior living communities offer a program lineup of entertaining activities and events so that you can experience something new every day. If amenities like wellness centers, fine dining options, and entertainment like in-house cinemas are important to you, Discovery Village At Tampa Palms offers all these and more.
You'll want to find a community that offers resort-style living in comfortable, stylish, maintenance-free suites and apartments. Maybe household chores have become difficult or are holding you back from enjoying life. If this is the case, look for a senior assisted living program that provides regular housekeeping services and maintenance.
Lastly, you would want to ensure that the senior assisted living option of your choice offers access to medical attention whenever necessary. Experienced, trained professionals are key to leading a happy, healthy life in senior assisted living communities.
Discovery Village's Senior Assisted Living Homes in Tampa, FL
Our assisted living option provides superior flexibility at a great value. If you or your loved one are in need of assistance with activities of daily living, then our senior assisted living homes in Tampa, FL are the right lifestyle option.
Experience resort-style living from the comforts of stylish and maintenance-free suites and apartment homes. Savor chef-prepared dishes and abundant clubhouse facilities, including daily programs and recreation and personalized care with daily tasks whenever necessary. With on-site therapy services and wellness programs, medical care, and 24-hour nursing attention, our senior assisted living homes create fulfilling lifestyles with exceptional care and service that do not comprise on entertainment, wellness, and meaningful, personal fulfillment.
Our personal care services include the following:
Health and wellness visits
24-hour nursing
On-site therapy visits
Personal grooming assistance
Dressing and clothing selection assistance
Assistance with eating
Personal laundry
Bathing or showering assistance
Medication management
Continence management
Insulin management and Glucose level monitoring
In addition to these services, you will find a host of other amenities. From comfortable, elegant apartments with weekly housekeeping services to tasty dining options that include private dining, you'll get to chill and unwind in style at Discovery Village At Tampa Palms. Our amenities also include:
Wellness center
Outdoor heated pool with terrace and cabanas
Entertaining movie theater
Library with media center
Arts and crafts room
Beauty salon with barbershop
Inviting social rooms and common areas on each floor
Emergency call response system
Premium lush tropical landscaping and walking paths
Social and recreational activities
Complimentary scheduled transportation
All utilities, local phone, cable, and internet
Small pets lovingly welcomed
Contact Discovery Village At Tampa Palms Today
Find all that you need and more in our senior assisted living homes in Tampa, FL. Our caring team is on standby to get all your needs duly fulfilled as you indulge in our world-class amenities. Make new friends, unwind in a cozy, modern apartment, and savor exquisite meals in our Sensations dining room. We will handle home maintenance, medical support, and assistance with daily tasks. Contact us at 813-437-4124 to learn about our assisted living program or book a complimentary tour.