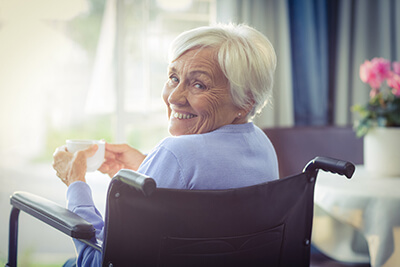 Our Assisted Living community in Tampa provides personal care and support with daily living activities. Discovery Village At Tampa Palms residents receive personalized care services comprised of bathing or showering assistance, medication administration, continence management, glucose management, and personal laundry. All of these services are supported by our 24-hour professional health and wellness team and our on-site Medicare-certified home health agency. At Discovery Village At Tampa Palms, we make thoughtful and personalized care a fundamental part of our service. Residents can enjoy peace of mind and security for their budget.
What to Look for in an Assisted Living Community
Your comfort and convenience are essential when considering moving to a senior living community. Senior assisted living homes offer assistance whenever necessary, but freedom and flexibility when you don't. Many senior living communities offer a program lineup of entertaining activities and events so that you can experience something new every day. If amenities like wellness centers, fine dining options, and entertainment like in-house cinemas are important to you, Discovery Village At Tampa Palms offers all of these and more.
You'll want to find a community that offers resort-style living in comfortable, stylish, maintenance-free suites and apartments. Maybe household chores have become difficult or are holding you back from enjoying life. If this is the case, look for a senior assisted living program that provides regular housekeeping services and maintenance.
Lastly, you would want to ensure that the senior assisted living option of your choice offers access to medical attention whenever necessary. Experienced, trained professionals are key to leading a happy, healthy life in senior assisted living communities.