We're Nationally Recognized for Our Approach to Senior Living Memory Care
SHINE® Memory Care is specially designed for people who are suffering from dementia. We know how tough it can be to take care of someone with dementia and we want to help. With our Memory Care program, we will guide and support your aging loved one by adopting a person-centered approach.
Our SHINE® Memory Care program curriculum is nationally recognized by the Alzheimer's Association®, the country's leading voluntary health organization dedicated to Alzheimer's care and research. The distinction is one that we share with a small and elite group of U.S. memory care providers.
SHINE® utilizes a personalized approach to our dementia loved ones. We make use of scientific principles that can promote comprehension and engagement in our loved ones who are living with dementia, or Alzheimer's disease, or any other memory-related conditions. This can help to improve their quality of living, making sure they receive the best quality of care.
To provide quality care, we only engage nurses and certified nurse assistants. They undergo regular training and education, especially in terms of memory care diseases to make sure that they are kept up to date with the latest medical care. In their training, they will chart a course of exploration for every single one of our aging loved ones. This chart will outline the various aspects of our residents' life that are important. With our SHINE® Memory Care program, our residents will get to enjoy personalized care as well as quality meals. If you are a family member, you can be assured that your aging loved one stay safe and happy with us.
What Is the SHINE® Senior Living Memory Care Program?
Our SHINE® Memory Care Program is a long-term care program that is specially designed to meet the needs of aging loved ones that are suffering from dementia or other memory-related conditions. With a supervised environment, our residents will be well-taken care of by a team of professionals who will provide assistance with medical monitoring and daily living activities. Our residents can also enjoy various activities throughout the day, keeping their lives happy and entertained.
We also have many common areas and activity centers that provide a sociable and friendly environment to help you socialize and make friends. You can feel assured knowing that your loved one is in a safe environment. Our professional Memory Care team will make sure that your loved one can enjoy his/her life even with dementia and/or Alzheimer's disease.
The SHINE® Senior Living Memory Care Program
Discover Independence, Confidence, and Self-Esteem
At Discovery Village senior living communities, we know that certain activities can be impactful. Some examples are:
Encouraging our residents to actively participate in activities
Celebrating the small wins and successes
Maintaining social and religious relationships
Keeping fit, both physically and mentally
Focusing on your strengths rather than your weaknesses
Discover Dining Delights
"Food on the Run" catered for residents who cannot focus on mealtime or frequently wander
Meditative dining where residents can dine in a calm and quiet environment at the same time each day
Assistance, if needed, to ensure active participation in dining
Nutritious gourmet meals that are great for your health
Discover Fun and Engaging Activities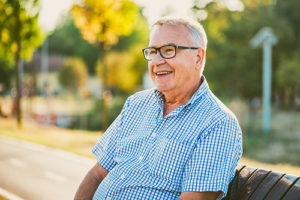 Activities that are suitable for our aging loved ones, taking into account their physical needs
Opportunities and events that fit into residents' attention spans
Small groups or one-to-one activities that are purpose-driven
Failure-free, non-competitive and age-appropriate activities
Discover Friendships and Belonging
Meaningful activities that give a sense of personal success and worth
Actively participates in personal care activities for a maximum sense of control and independence
Promote friendships and pleasure via play or leisure activities to increase the quality of life
Personal care activities that define how a person is perceived by their peers, family, and friends
Contact Discovery Village At Deerwood for Senior Living Today
Our SHINE® Memory Care programs emphasize the following in their holistic, personalized treatment plans:
Safe, secure neighborhoods created with your loved one's convenience, health, and happiness in mind
A handcrafted "My Story" book for each resident
Superior communication with residents and their families
Extensive training for our team members
One-on-one or group activities, sensory experiences, and quiet, relaxed moments
A dining experience with subtle sciences that can stimulate interaction, appetite, awareness, and participation
If you wish to experience "A Day in the Life" of one of our residents or learn more information on our SHINE® Memory Care Program, feel free to call us at 904.326.0516 or via our convenient online form.  We will be happy to speak with you about your aging loved one's personal lifestyle needs. Alternatively, you can schedule a tour with us to explore our facilities.