Our Senior Living Community is Nationally Recognized for Our Approach to Memory Care
At Discovery Village, we understand the issues people with dementia have to go through. When a member of your family enters our Memory Care community, we'll guide and support them using a person-centered approach that's rated among the nation's very best.
Our SHINE® Memory Care program curriculum has earned a National Certificate of Recognition from the Alzheimer's Association®, the country's leading, voluntary health organization dedicated to Alzheimer's care and research. The distinction is one that we share with a small and elite group of U.S. memory care providers.
In order to promote comprehension, engagement, and lifestyle qualities for your loved ones living with Alzheimer's Disease, dementia, and other memory-related conditions, an approach called SHINE® is used which is personalized and unique to memory care that utilizes scientific principles.
We have both nurses and certified nurses, who are endlessly learning and training to specialize and further their expertise in memory care disease, chart a course for each resident to explore many important aspects of life. Our SHINE® Memory Care program is designed to preserve and rebuild what their condition has taken from them. From personalized care and attention to quality meals, you can rest easy knowing that it's guaranteed that family members are in the best hands and receiving the finest quality care. You have our word on it.
Discovery Village At Palm Beach Gardens's Senior Living Community: SHINE® Memory Care Program
At Discovery Village At Palm Beach Gardens, residents will get to enjoy a social and friendly environment with beautiful dining rooms, common areas, and state-of-the-art activity centers – which can lead to forming new and cultivating friendships. Family members with Alzheimer's disease and/or dementia deserve compassion and guidance, and our Memory Care team members who are expertly trained assure that they'll get the level of care they need.
Our SHINE® Memory Care Program provides long-term care designed to meet the needs of these residents through a supervised environment, assistance with daily living activities, and medical monitoring. We also arrange activities throughout the day to enrich the lives of our residents by keeping them engaged and filled with purpose.
The memory care communities also include benefits such as the assistance of specially trained team members, the peace of mind that comes with knowing your loved one is in a safe and secure environment, and opportunities for residents to interact and socialize. If you have considered a memory care program for your loved one, Discovery Village offers high-quality care at our stylish, comfortable Palm Beach Gardens location.
Discovery Village At Palm Beach Gardens: SHINE® Memory Care Program
When your loved one enters our SHINE® Memory Care community, which is one of the premier memory care communities in FL, they'll be in good hands.
Discover Independence, Confidence, and Self-Esteem
At Discovery Village senior living communities, we know the impact of the following:
Celebrating each small success one at a time
Focusing on strengths rather than limitations
Encouraging active participation in all activities of daily living
Promoting physical exercise, stimulating mental activity, and helping to maintain social and religious contacts
Discover Dining Delights
Active participation in dining with assistance provided as needed
"Food on the Run" for residents who lost the ability to focus on mealtime or frequently wander
Dining in a serene environment every day at the same time, which enables residents to put their focus on eating
Promote overall good health with Nutrient-dense gourmet meals
Discover Fun and Engaging Activities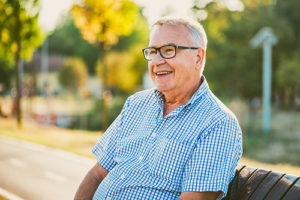 Purpose-driven activities in small groups or on a one-to-one basis
Activities geared towards residents' present abilities and time of day
Activities that are noncompetitive, failure-free and age-appropriate
Opportunities that match residents' attention spans
Discover Friendships and Belonging
Work or productive activities provide a sense of worth and personal success
Promote friendships and pleasure for increased quality of life through play or leisure activities
Personal care activities that define how a person is perceived by their peers, family, and friends
Active participation and support in personal care activities help maintain a maximum sense of control and independence
Contact Discovery Village At Palm Beach Gardens's Senior Living Community
Our SHINE® Memory Care programs emphasize the following in their holistic, personalized treatment plans:
Superior communication with residents and families
Extensive training for our team members
A dining experience that utilizes subtle sciences to stimulate awareness, interaction, appetite, and participation
A handcrafted "My Story" book for each resident
One-on-one and group activities, sensory experiences, and quiet, relaxed moments
Safe, secure neighborhoods created with your loved one's convenience, health, and happiness in mind
For more information on our SHINE® Memory Care Program and to experience "A Day in the Life" of one of our residents, kindly contact a senior lifestyle coordinator at 561.316.4626  or through our online form. We'll gladly speak with you about the lifestyle needs of your loved ones. You can schedule a tour and explore our community, and we are more than happy to answer any questions and address any concerns you may have.