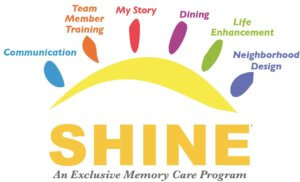 Residents can delight themselves in a cozy environment, here at Discovery Village At Naples. With exquisite dining rooms, comfortable common rooms and cutting-edge activity centers, residents will be at ease in building meaningful relationships. Your family members with Alzheimer's disease or dementia worthy of dignity will receive the best service with our seasoned Memory Care team members.
SHINE® Memory Care is a uniquely personalized and empirical approach to memory care to encourages connection, comprehension and lifestyle quality for your loved ones living with dementia, including Alzheimer's Disease and other memory-related conditions.
SHINE® utilizes a proprietary and scientific memory care approach catered to each individual to engage and promote life satisfaction for residents with Alzheimer's disease, dementia and other associated conditions.
SHINE® aims to restore a quality life in individuals with dementia. With our expert team members, we ensure that your loved ones can enjoy meaningful engagement opportunities in a safe and secure homelike environment at every stage of dementia.
Enjoy Delectable Meals
 Restaurant style dining in a social environment with dignity and choice.
Finger Food entrees options to support residents who find it challenging to focus during meals
Healthy, exquisite meals to ensure sound nutrition
Support for independence, assistance as needed during mealtime to promote self-accomplishment
For more information on our SHINE® Memory Care Program and to experience "A Day in the Life" of one of our residents, please contact a senior lifestyle coordinator using our convenient online form or at 239-360-9569. It would be our pleasure to speak with you about your loved one's personal lifestyle needs. You can explore our facilities by scheduling a tour, and we'll gladly answer any questions and address any concerns you may have.