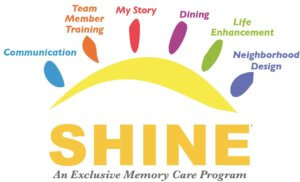 Nationally Recognized as The Best!
SHINE® Memory Care is Discovery Village At Boynton Beach's exclusive memory care program. SHINE® represents a personalized approach to memory care using science-driven data to help promote engagement, comprehension, and, ultimately, the quality of life for seniors living with dementia, Alzheimer's disease and other memory-focused issues.
Our SHINE® Memory Care program has received a national Certificate of Recognition from the Alzheimer's Association, the country's leading voluntary health organization dedicated to Alzheimer's care and research. One of only eight nationally recognized programs, SHINE® is a unique personalized approach to memory care that uses scientific principles to promote engagement, comprehension and lifestyle quality for seniors living with dementia, including Alzheimer's Disease and other memory-related issues.
In our memory care community in Boynton Beach, FL, you'll find an experienced team of caregivers who provide compassionate, comprehensive care. Reach out to Discovery Village At Boynton Beach today at 561-220-8537 to learn more about how we can care for the senior in your life.
What Is a Memory Care Program?
A memory care program is designed to provide specialized care for seniors with Alzheimer's, dementia and other kinds of memory issues. In our safe, secure community in Boynton Beach, residents receive 24/7 care from nurses, certified nurse assistants and other medical professionals. Our team is specially trained to care for individuals with dementia and has years of experience. Many seniors need more intensive levels of care as they age. For many, this is part of the process of getting older. At our SHINE® Memory Care community in Boynton Beach, FL, your loved one can receive the care they need.
The SHINE® Memory Care Program at Discovery Village At Boynton Beach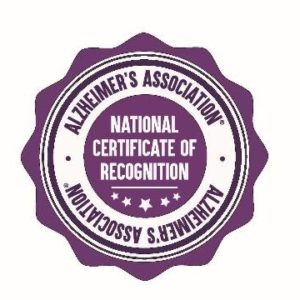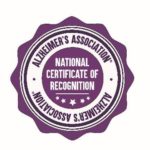 The team at Discovery Village At Boynton Beach understands the difficulties that people with memory issues face. In addition to the practical challenges that come with memory loss, a person can feel like they are losing their identity. When a senior in your life enters our memory care program, our nurses and certified nurse assistants chart a course of exploration that helps them through a variety of important aspects of life. Our SHINE® nurses and CNAs are continually receiving education and specialized training in caring for memory diseases. Put simply, in our memory care program, we aim to rebuild and preserve what your loved one's affliction has taken away from them. From quality meals and other amenities to the personalized care and attention that each of our residents receive, you can rest assured that your loved one is in the best hands possible.
Discover Independence, Confidence, and Self-Esteem
Discovery Village At Boynton Beach's SHINE® Memory Care program makes a practice of the following:
Promoting physical exercise, stimulating cognitive acuity and striving to maintain social contacts
Focusing on residents' strengths rather than on their limitations
Encouraging active participation in the activities of daily life
Regularly celebrating small successes as they come
Discover Delicious Dining
At our SHINE® Memory Care community in Boynton Beach, FL, we also provide:
Healthy gourmet meals that promote an overall healthy lifestyle
Active social participation in dining, providing assistance as needed
A calm, peaceful dining environment and service at the same time each day, which allows residents to focus on eating
Our "Food on the Run" service for residents who frequently wander or have trouble focusing at mealtime
Discover Fun and Engaging Activities
We know that an active mind is a healthy mind. To this end, Discovery Village At Boynton Beach offers:
Purpose-driven activities in both small groups and on a one-to-one basis
Activities that are customized to each resident's abilities
Games and activities that are age-appropriate, non-competitive and failure-free
Opportunities designed with each resident's likes and dislikes in mind
Discover Belonging and Purpose
Perhaps the most important aspect of our memory care program is a sense of belonging. Our SHINE® program includes:
Active support with activities that helps to foster a sense of self-reliance and independence
Personal care activities that help to determine how a resident is perceived by their peers, family and friends
Work activities and productivity exercises that provide a sense of personal success and improved self-worth
Play and leisure activities that promote friendship and fun
For more information or to experience a day in the life of our SHINE® Memory Care program in Boynton Beach, FL call 561-468-3087. Our SHINE® team is waiting to speak with you about how Discovery Village At Boynton Beach can meet your loved one's needs.
Contact Us to Learn More About Memory Care Communities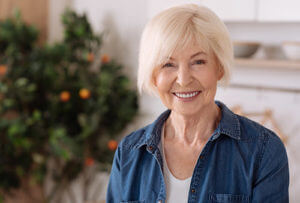 The holistic, personalized treatment plans we utilize in our SHINE® Memory Care community is based on the following foundational ideas:
Frequent and open communication with our residents and their families
Extensive, continual training for all of our team members
A handcrafted "My Story" book for each of our residents
A singular dining experience that stimulates the appetite, but also improves interaction, awareness and participation skills
A broad range of activities, sensory experiences and quiet, relaxing moments
A safe, secure environment designed with your loved one's convenience, health and happiness in mind.
Learn more about our memory care program in Boynton Beach, FL as well as about our other senior living options at Discovery Village. Reach out to us at 561-468-3087 or contact us online today.