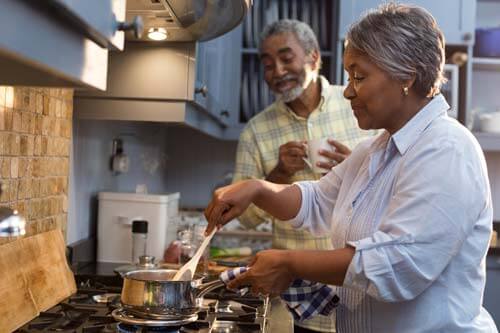 You've reached a point in life where homeownership has become more of a responsibility than freedom. Although you can still get around fairly easily and don't require extensive medical care, you're searching for a community where you can be around others your age, make new friends and enjoy all that life has to offer. If this sounds like you, then Discovery Village At Twin Creeks is the best choice for you. Our senior independent living homes in Allen, TX have been specially designed for seniors who are looking for a place where they can lead happy and healthy lives in.
Contact us today at 972.532.7042  to learn more about the living options available to you at Discovery Village At Twin Creeks.
Senior Independent Apartment Homes and Cottages
Each resident at Discovery Village At Twin Creeks choose from one of 16 models of apartments and cottages to live in. Based on your individual needs and preferences, we help you create the home you'll love. Our apartments and cottages range from 725 to 1232 square feet of generous living space and come with either one or two spacious bedrooms. Depending on your chosen model, you may also have a sunroom or study on top of the bedrooms.
Each of our independent living homes comes with a kitchen that is fully furnished with a set of stainless steel appliances. Our bathrooms feature modern and kitchens conveniences that include quality woodwork cabinets and granite countertops. Faux-wood plank floors are the standard for each living area. Each home also come with heating and A/C units that are controlled by the owner, on top of washers and dryers. Depending on the model you choose, you may also have access to a patio and/or garage.
While these apartments and cottages are completely suited to your needs, they're not all that our residents love about our community. Our community is equipped with a range of luxurious amenities which our residents can make full use of, free of charge. Whether you wish to relax poolside in the afternoon, keep active with our outdoor exercise classes or play board games with neighbors, you can do it all here. Our activities include:
Spiritual activities
Happy hours
Game nights
Exercise classes
To learn more about the exciting activities we provide, contact Discovery Village At Twin Creeks by calling 972.532.7042 .
Everyday Experiences at Discovery Village At Twin Creeks
Live each day in comfort and convenience when you make a home with us in Allen, TX. Our concierge services take care of everything so you don't have to. From the moment you commit to moving into our community, we take care of your every need from scheduling movers to laying out furniture in your new cottage or apartment. Once you have settled down into your new home with us, it's time to take full advantage of all the experiences we offer.
Contact Discovery Village At Twin Creeks
At Discovery Village At Twin Creeks, our priority is your comfort, health and happiness. To this end, our we senior independent living program is tailored completely to your needs. For more information about our senior independent living homes in Allen, TX, contact us today at 972.532.7042 .