Senior Assisted Living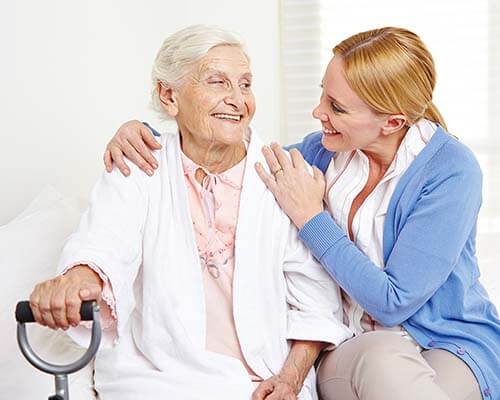 Needing some extra assistance shouldn't stop you from doing the things you enjoy most.  If daily tasks have started to make you feel anxious or unsafe, the assisted living program at Discovery Village At Dominion will be a welcome respite. We are happy to help you schedule appointments and manage your medications. While dining at our Sensations restaurants, you will get to enjoy a restaurant-like dining service. You are guaranteed to have fun when you have a social or a shopping event scheduled. When you have the help you need, the world feels manageable. And you'll breathe a sigh of relief. Medical appointment? We'll take care of that. Transportation? It's included—we'll schedule it. Need help on a walk or in the shower? We have you covered. 
Our kind, thorough, nurturing staff members are there for you every step of the way. Our staff members are more than caregivers; they're companions. We understand that people sometimes need help outside of business hours, so our professional health and wellness team is available 24 hours a day, 7 days a week. We pride ourselves in building a community that is dearly loved by both the residents and their families. The elegant, pleasant environment we have created for our assisted living option is unappalled in San Antonio. The amenities in assisted living are designed by professionals to help you live a happier, easier, more active life.  We have the best amenities in senior assisted living. Our private apartments are furnished with an array of convenient and appropriate features. We also have the finest amenities in our assisted senior living.
Here are some amenities you'll find in our senior assisted living homes:
Family care conferences and phone updates
Kitchenette with a refrigerator, microwave, and stainless steel sink
Wooden cabinets in kitchenettes & bathrooms
Resilient wood-look plank flooring in kitchens & baths
Personal laundry
Mealtime and activity reminders
Walk-in closets (per plan)
Individually controlled heating & air conditioning
ADA-compliant bathrooms featuring grab bars, walk-in showers, and tile flooring
Assistance adjusting the thermostat
Activities and events calendar
Window blinds
Assistance standing, walking, and getting dressed
Easy-to-reach emergency call and response system
Mobility and transfer assistance
Regularly scheduled physician visits and transportation
24-hour nursing
Pain management
Medication management and glucose monitoring
Showering and bathing assistance
On-site speech, occupational, and physical therapy
Proximity to activity opportunities, nursing station, dining area, and grande ballroom
Continence management
Clothing selection and dressing assistance
Linen service
Weekly housekeeping
Daily trash removal
Our Senior Living Options
Every person in the community is sure to get the care they deserve at the residential senior living. Whether you are tired of cleaning and cooking, or you want to ensure that you don't get yourself injured, or you simply want to enjoy life and stay healthy, we are always happy to accommodate your needs at the Discovery Village. We know that deciding to choose the right place where your loved one is guaranteed to live a comfortable life is a tough one. There is an uncountable number of senior communities in San Antonio. However, our residents and families agree that Discovery Village At Dominion soars above the competition. Our staff members try their best to keep our residents comfortable and happy and genuinely care about them. Moreover, our facilities and amenities are elegant, purposeful, and welcoming.
Needing a hand getting dressed in the morning shouldn't stop you from participating in social events on our activities calendar; the senior living community at Dominion will get you where you need to go and help you once you get there. There is no need to stress about getting ready for family events or holidays; our staff can help get you fresh, clean, and ready to "hop" in the car when your family arrives to pick you up. At Discovery Village At Dominion, we take pride in building our Assisted Living program to offer access to the things you enjoy most. Our staff takes care of the prosaic tasks that make life stressful.
Contact Discovery Village At Dominion at 210.436.1669 to learn more about our impeccable assisted living option.