Senior Living Amenities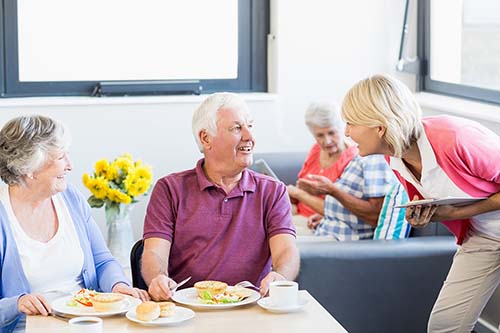 Our senior living community is proud to offer a vast array of home and community amenities. You deserve to have a beautiful home, fun things to do, and a welcoming, inclusive community. Need to hang a picture or move a dresser? Just let our concierge know. Our team is available 24/7 to help you with whatever you need. Our activities director makes certain that residents have a good deal of cultural, social, cultural, and fun activities to keep them busy. We send a copy of the daily schedule to the residents in their mailboxes as well as post it so that they get noticed ahead of time. We provide most of the amenities. However, residents also can purchase internet services and cable TV, which includes most local TV channels.
Our Exclusive Senior Living Amenities
It's important for seniors to live in a place they can be proud of. Choose the home that suits your lifestyle here in San Antonio. Discovery Village At Dominion is committed to providing quality senior care in a practical, elegant setting. Our amenities are tastefully designed with seniors in mind. The residential living includes everything today's individuals might be looking for. The apartments are equipped with all the necessities; the residents can customize the décor and layout.
The facilities we offer at Dominion are practical and elegant. Discovery Village At Dominion is the place you would want to show off to your family members when they are picking you from the Discovery Village or when they are visiting you for dinner at the Sensations restaurant.
We'll take care of the heavy lifting; all you have to do is pick your floor plan and decide on a layout. When a home is equipped with the best amenities, it feels like home, which is why we proudly claim to be the best retirement community in San Antonio.  And we do.
Some of the amenities included in our senior living community are listed below:
On-site parking

Water, trash removal, sewage, and landscaping services

Unit-controlled thermostats

Small pets allowed (vaccination records required)

An easy-access emergency call/response system

Wall-to-wall carpeting in bedrooms

Walk-in closets and patios per plan

Window blinds (preinstalled)

Wood cabinets

Housekeeping services

New microwaves

Granite countertops

Stylish floor plan options
When we create these options, our primary focus is the comfort of the residents. So, whether you want to maintain an active lifestyle, live in a beautiful apartment or a relaxing environment, we have it covered for you. We host many of the on-campus events in the Grande Clubhouse. If there's a place where you'd want to visit that is not listed on the schedule, feel free to ask because we provide complimentary concierge services, which will enable you to commute to and from the destination absolutely free of charge.
Entertainment Amenities Include:
Beauty salon and barbershop on-site

Poker night, bridge, and dominoes

Complimentary scheduled transportation

Concierge services

Dances, parties, and potlucks

Movie theater

Shopping, dining and entertainment outings

Day trips

Family events and programs

On-site therapy

Professional care team available 24/7 for Assisted Living and Memory Care
Reach Out to Discovery Village's Retirement Community
Discovery Village At Dominion has the best senior living community amenities in the San Antonio area. All of our senior living community amenities and activities are designed with you in mind. San Antonio seniors deserve to live in a place that's pleasing to the eye, stimulating to the mind, healthy to the body, and nurturing to the soul. Residents enjoy a wide variety of amenities that enable them to feel at home and stay fit. Contact us at 210.436.1669 or reach out online to learn more.