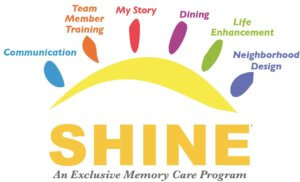 SHINE® Memory Care
Discovery Village At Dominion is proud to offer SHINE® Memory Care. Senior living communities nationwide have started adopting elements of this holistic and research-based program. We are revolutionizing memory care across the county.  Built on a foundation of deep personalization, SHINE® Memory Care incorporates six points of focus (e.g. communication, autobiography, and enrichment). Our nurses and aides welcome new residents with open arms and guide seniors through a daily journey of discovery and revelation. Each of our SHINE® certified team members has a deep understanding of best practices in the treatment of dementia and Alzheimers. Unlike other memory care programs, we take a practical, inclusive, and elder-centered approach. At Discovery Village's Dominion campus, we cherish our ability to care for the few vulnerable residents who find themselves unable to care for themselves. We hold this ability in the highest regard. 
Simply put, we offer the best in memory care. Our homes are comfortably and conveniently equipped and all services are provided. Here are some integral components of the SHINE® memory care program that we offer at Discovery Village At Dominion in San Antonio, Texas:
Extensive team training

Dignified and compassionate care

SHINE® six points of focus

Cleaning and laundry services

Gourmet meals

Medication management

Continence management

An array of sensory activities

Modified activities calendar

Bathing assistance

Assistance with morning, afternoon, and evening routines

Personal and individualized care

Comfortable temperature and lighting

Help with hygiene and personal care

Activities calendar (appropriately adjusted to meet residents' needs)

Secured, ADA-compliant location and facilities

Regular visiting hours

Transportation (when necessary)

Scheduling appointments 
Peace of Mind is Priceless
More than anything, our SHINE® Memory Care residents are loved. The team members we select to join our SHINE® team have demonstrated the highest levels of professionalism, kindness, and strength in their field. The truth is this: No matter how much you love a family member whose mind is clouded by Alzheimer's or dementia, your family alone is not enough to properly care for them. In order to really enhance the life of a senior with dementia, a dedicated, professional, and nurturing support team is paramount. At Discovery Village At Dominion, our memory care team promotes engagement, comprehension, and lifestyle quality by accessing the foundational principle of deep personalization. We prioritize patient comfort and safety above all else. We understand that most people are uncomfortable discussing memory care, but we'll be here when you're ready.
Residents in SHINE® Memory Care enjoy a host of sensory and development activities along with personal care services including (but not limited to) medication management and easy administration, bathing assistance, and personal hygiene/continence management. Our team of dietary assistants provides individual assistance during breakfast, lunch, and dinner. Laundry, cleaning, and transportation services are included in this secure portion of our facility. We set ourselves apart by allocating resources to the people who are sometimes unable to verbalize their needs. We offer the very best in memory care. Senior living communities across the country have started adopting the SHINE® program. From quality meals to personalized care and attention, you can rest assured that your family members are in the most capable hands and receiving the best care. You have our word. 
Honoring the program's mission, SHINE® team members have completed the SHINE® training program and received SHINE® certification in treating dementia (including Alzheimer's Disease and other memory-related conditions). Using evidence-based care methods, the team at Discovery Village At Dominion delivers dignified and compassionate care in a welcoming and nurturing environment. We are thrilled to join the growing number of senior living communities adopting this personalized, life-enhancing program. Dementia (Alzheimer's falls in this category) is an extremely personal and unique experience that is enhanced by small-group activities and individual assistance. Our personalized program ensures that residents are never isolated or ignored. Memory care programs are not intimidating given the appropriate team and allocation of resources. Give us a call and we'd be happy to discuss our current availability, your current situation and determine whether SHINE® will be a good fit for your loved one. 
Contact Discovery Village At Dominion at 210-592-4414 to learn more about our life-enhancing memory care services.